The cold and rain is apropos to the bleak state of the world. Sometimes it seems we're helpless before the advancing tide of hate, callousness, and greed.
What we need is some chicken soup for the liberal soul.
Acclaimed Bay Area folk musicians Marcus Duskin, Carol Denny, and Jim Nelson will revive your progressive heart with classic labor and protest songs like Workers of the World Awaken, I Really Like the Cops, and more. We'll spread around the laughter with comedy sketches, and throw in some righteous indignation with the sermonizing of Reverend Woo.
Performed at the Freight & Salvage 2/25/19
The fateful moments—the minutes or days where life careens out of our control. Do we face what's around the corner? Join us for a special night of solo theater when four talented performers share the moment their lives were inalterably recast—times epiphanal and bizarre. 
One night, four performances
Rev. Woo's Spring Sermon
In these tumultuous times, Reverend Woo's words brings spiritual rejuvenation and squeezes epiphanies from the wounded soul.
Part of the Radical Acoustic cabaret with, Carol Denney, Marcus Duskin, Peter Griggs, Barbara Jaspersen, and Christy Rodgers.
Performed on 5/19/18 at Cafe Du Soleil in San Francisco, CA.
They embarrass us, they're infuriating, and we certainly didn't choose them… but we love them anyway. Join us for a special night of solo theater, when four gifted solo performers share their stories of family–intimate and absurd.
Performances by: Steven D. Low with Used to be Strangers, Tastes Like Chicken; Marcus Duskin, What's it Like Being White; Barbara Sanders, Crepuscule; The T, PKs
Part of the 2nd annual The East: Solo Performance Laboratory performance showcase.
Steven is soul-searching, wandering the blue highways. Now he's confronted with his worst enemy, himself, and he can't get him to shut up… or to stop punching him in the face. Bay Area solo performer, Steven D. Low, debut's his one man show, Chink Monkey. Follow an ignoble and absurd cast of characters as Steven reveals the unspoken experiences of interracial romance, race and masculinity with unflinching honesty.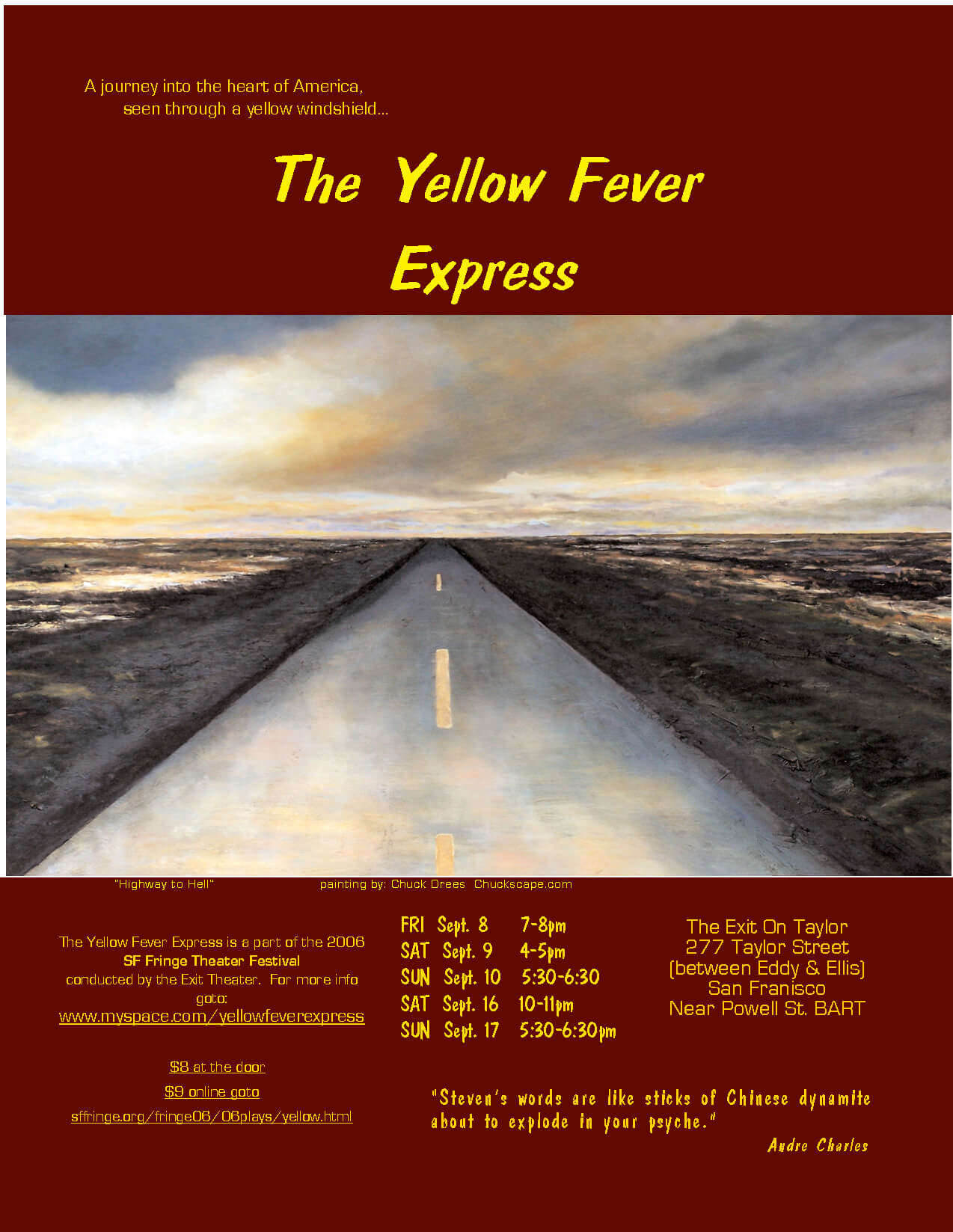 Shamans, cavorting with 50 year old stripers, channeling Crazy Horse. All the elements of an Asian American road trip. Through Arizona and Utah, from South Dakota to Tennessee ride shotgun and view America through a yellow windshield on the Yellow Fever Express.
Students celebrate diversity through creative expression: The Eureka Reporter, 4/19/2007
Hop Aboard the Yellow Fever Express: AsianWeek, 9/15/2006
Other showings: Humbolt State Univ., SF Fringe Festival, SF Labor Fest, APAture (Kearny Street Workshop)